Many now have a tablet. This gadget is especially in demand in families where there are children; it is often used by schoolchildren and students. However, adults also often use tablets – for work, games, watching videos on the go.
We chose four universal tablets that all family members will like and are suitable for most tasks. The selection contains two budget models and two more expensive but powerful ones.
Apple iPad (2019) 32 Gb Wi-Fi
With a large screen and the same features
This tablet features fast work, performance and an excellent screen with a diagonal of 10.2 inches and a resolution of 2160 × 1620. On such a screen, not only video is perfectly reproduced – games also become more spectacular.
A powerful processor, a good supply of memory – 3 GB of operational, 32 GB of internal – allow you to install most demanding games and play them, install heavy applications. The gadget does not slow down and copes with any tasks perfectly. The case is metal and the glass is scratch resistant. The gadget will not lose its appearance, but if you want to keep it for a long time, it is better to buy a cover.
The speakers are located on one side, but this does not affect the sound quality. It is clean, loud, without rattling notes that cheap devices can issue in metal cases.
The battery life depends on what the tablet is used for. In Internet surfing mode, it can work up to 10 hours. When watching a video or during games, the gadget discharges faster.
Pros: good build quality, functionality, power, sound quality, video.
Cons: there is no slot for a memory card, so 32 GB is the limit.
Samsung Galaxy Tab A 10.5 SM-T595 32 Gb
Powerful and long running on a single charge
This Galaxy Tab is a good alternative to iPad: copes with all the same tasks, while it costs a little cheaper. The amount of memory is the same, a powerful processor is responsible for fast work – it will cope with most demanding games.
The screen is large and bright – 10.5 inches. However, because of this size of the display, the tablet weighs a lot – a little more than 500 g. Resolution of 1920 × 1200 and excellent sound from four speakers allow you to fully enjoy games and videos.
In video viewing mode, it can work up to 15 hours. This is one of the best indicators among modern tablets. A fully discharged battery can be recharged in three to four hours.
This tablet is perfect for those who often use the gadget on the road. You can insert a SIM card into it and secure a stable Internet without being tied to Wi-Fi.
Pros: power, sound and video quality, autonomy, SIM card slot.
Cons: quite heavy.
Lenovo Tab M8 TB-8505X 32 Gb
Inexpensive and compact
This tablet costs about Rs 10,000. It works on one of the most popular versions of Android – 9.0. Built-in memory of 32 GB, while there is a slot for a memory card. Compact and lightweight, quite productive – you can play many popular games on it.
The resolution is not the highest – 1280 × 800, but optimal for a small screen size. It works on a single charge up to 12 hours. It will be a great solution for those who like to carry a tablet with them to communicate on social networks, check mail, surf the Internet, play simple games.
Compact (8 inches), lightweight (305 g), durable battery (up to 12 hours of operation). The tablet has the right to become a "traveling friend" for entertainment and solving current problems.
Pros: productive, small, holds a charge well.
Cons: not a very bright screen.
HUAWEI MediaPad M5 Lite 10 32 Gb Wi-Fi tablet
Performance and great sound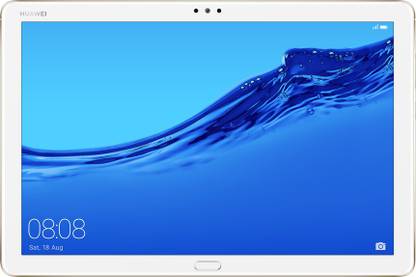 Good tablet with a standard screen size of 10 inches. The display is quite bright and with a good resolution – 1920 × 1200. The main advantage of this gadget is its good sound quality. It will appeal to those who like to watch videos, TV shows and movies directly on the tablet.
Inside is the Android 8.0 operating system, 3 GB RAM and 32 GB built-in memory. Together, they make it possible to install good modern games, but resource-intensive ones may not start, and games like PUBG can slow down even with low graphics settings.
In everyday tasks, the device demonstrates excellent and fast operation – all applications quickly open and switch. The tablet does not slow down and works without fail.
The metal case and large dimensions affected the weight of the tablet. 475 g – a lot, but there are gadgets and heavier. With active work, it holds a charge for about six hours. Not enough, but compensated by fast charging.
Pros: sound, design, fast work.
Cons: heavy, can not cope with resource-intensive applications.
Which tablet to choose
Apple iPad (2019) 32 Gb, if you use the tablet very often and for a variety of tasks. It will completely replace even an inexpensive laptop. It boasts an excellent screen and fast operation.
Samsung Galaxy Tab A SM-T595, if you need a powerful tablet, but you prefer Android. It is no worse than the iPad, it costs a little cheaper. Powerful and with great gaming potential, excellent display, and high-quality sound.
Lenovo Tab M8 TB-8505X 32 Gb if you are not ready to spend a lot of money. Very compact and lightweight tablet with a good supply of memory. It is convenient to take with you wherever you go.
HUAWEI MediaPad M5 Lite is a smart, productive tablet with great sound. A great solution for those who often watch TV shows, movies, and videos right on their tablet. Suitable for all everyday tasks.